Restoration: YOU!
Posted on January 11 2019
SUNDAY BRUNCH VIP EVENT
January 20, 10am-1pm
Have you ever wanted to hit the reset button on your mind, body, skin, and confidence? There are groundbreaking products and services helping women to do just that, and more!
Join us for Sunday Mimosa Brunch and get complimentary consultations with our expert guests, Dr. Dennis Faludi of Aesthetic Medical Center and Sara Thompson, Independent Consultant for SOMADERM Gel. 

This VIP Event hosted by Undeniable Boutique is invitation only and sure to sell out fast (guests are welcome but must be registered to attend).
RSVP NOW!

ABOUT DR. FALUDI
As recently seen on the cover of Fairfax Woman, Dr. Faludi, founder of Aesthetic Medical Center, provides the highest quality in minimally invasive cosmetic treatments for women in the Washington, D.C. metro area. He has decades of experience in reconstructive and microsurgery, with additional training in advanced facial aesthetic procedures. His expertise in the delicate techniques required for working with small vessels, nerves, soft tissue, and bone flow naturally into Aesthetic Medicine. He now uses his surgical skills to perform minimally invasive cosmetic treatments for a variety of skin and vascular conditions over the face, hands, and body.

Dr. Faludi will be available for 1-1 consultation on Ultherapy, a treatment for women interested in lifting, toning, and tightening areas of laxity on the face chin, neck, chest, upper arms, or knees without undergoing surgery.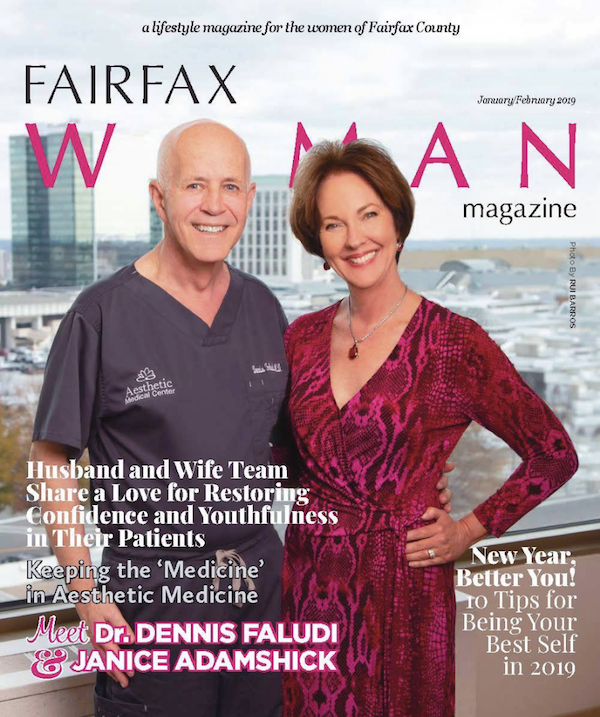 ABOUT SOMADERM
Do you want to:
Sleep better?
Enhance your focus?
Minimize hot flashes?
Grow and strengthen your hair?
Feel more energized?
Eliminate aches and pains? 
Alleviate menopausal symptoms?
Improve your skin tone and elasticity?
Sara Thompson will be available to discuss the benefits of SOMADERM Gel, the only transdermal product containing Homeopathic human growth hormone.